Morty.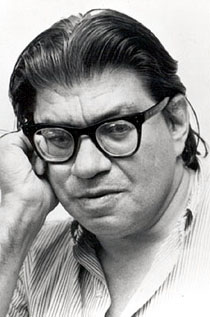 I mean what is there to really say about Morton Feldman? A lot of things. American composer, BFF's with John Cage, changed the way people read and listen to music, thrived in obscurity, yeah, that Brooklyn boy that said FUCK Rachmaninov, I bet he did lines with Johnny while Webern's
Symphony
played in the background. How else can you stay awake for a six hour string quartet?
Still, something's to be said about this work, dedicated to Frank O'Hara in 1982 as a "thanks bro" for dedicating a poem to Morty himself called "Wind." Is this supposed to sound like wind? I mean, yeah, it sounds like wind, mainly because he only uses like two sentences of the original text. I like how he experiments with stereo sound. Where the audience is sitting matters- there exists a left right and center channel- you gotta be right in the middle of it to experience its full effect. His graphic score was organized into cells, where the performer is given specific approximations. The piece can last from between 45 minutes to almost two hours, depending on how fast the soprano decides to take it. When Joan la Barbara performed it first, it took almost 90 minutes. She practiced the fast spots to make the recording half the length.
Here's what she thought of it.
I personally like the way that "snow falls" sounds like "narwhals" starting around 22:10.
There's a discussion about this piece tomorrow in Rogers Park moderated by the
Morton Feldman Chamber Players
founder and fellow Columbia alum, Andy Costello. I wanna go, but it's soooooo far.